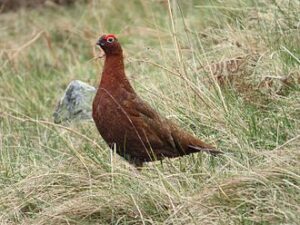 The Red Grouse
The Kilchreest and Peterswell Conservation and Gun Club are working on a highly successful conservation project to increase the numbers of Red Grouse in the hills in this area.
These birds are easily recognisable and are sometimes flushed by walkers because they use the heather for cover.
Much of the area around the Old Curragh Road has been managed as a comanage since it was part of the Roxborough Estate owned by the Persse`s in 19th and early 20th century. It is now managed by the Roxborough Commonage Association.